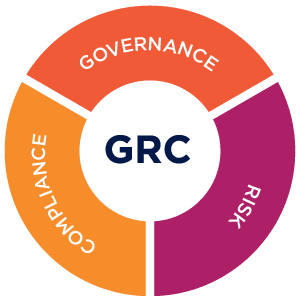 GRC Services
Governance, Risk, and Compliance (GRC) is concerned with identifying and controlling risks, adhering to new rules and regulations, maintaining the right to do business, protecting brand reputation, and, increasingly, establishing sustainability practices.
Build and enhance IT governance, enterprise, and IT risk management processes with strategies and roadmaps, effective policy management, and operations and regulatory risk management processes.
build, perform, and manage audits and assessments related to IT governance, regulatory and policy compliance, security and information security, third-party control and governance, and provide external and internal audit support.
Governance
Governance is the set of policies, rules, or frameworks that a company uses to achieve its business goals. It defines the responsibilities of key stakeholders, such as the board of directors and senior management. For example, good corporate governance supports your team in including the company's social responsibility policy in their plans.
Good governance includes the following:
Ethics and accountability
Transparent information sharing
Conflict resolution policies
Resource management
 
Risk management
Businesses face different types of risks, including financial, legal, strategic, and security risks. Proper risk management helps businesses identify these risks and find ways to remediate any that are found. Companies use an enterprise risk management program to predict potential problems and minimize losses. For example, you can use risk assessment to find security loopholes in your computer system and apply a fix.
Compliance
Compliance is the act of following rules, laws, and regulations. It applies to legal and regulatory requirements set by industrial bodies as well as internal corporate policies. In GRC, compliance involves implementing procedures to ensure that business activities comply with the respective regulations. For example, financial technology organizations must comply with laws like PCI-DSS standards.
Why is GRC important?
By implementing GRC programs, businesses can make better decisions in a risk-aware environment. An effective GRC program helps key stakeholders set policies from a shared perspective and comply with regulatory requirements. With GRC, the entire company comes together in its policies, decisions, and actions.
How does GRC work?
GRC in any organization works on the following principles:
GRC requires cross-functional collaboration across different departments that practices governance, risk management, and regulatory compliance. Some examples include the following:
Senior executives who assess risks when making strategic decisions
Legal teams who help businesses mitigate legal exposures
Finance managers who support compliance with regulatory requirements
HR executives who deal with confidential recruitment information
IT departments that protect data from cyber threats
A GRC framework is a model for managing governance and compliance risk in a company. It involves identifying the key policies that can drive the company toward its goals. By adopting a GRC framework, you can take a proactive approach to mitigating risks, making well-informed decisions, and ensuring business continuity.
Companies implement GRC by adopting GRC frameworks that contain key policies that align with the organization's strategic objectives. Key stakeholders base their work on a shared understanding from the GRC framework as they devise policies, structure workflows, and govern the company. Companies might use software and tools to coordinate and monitor the success of the GRC framework.
GRC Transformation
iSec has been working in the security field for many years; therefore, we would support organizations managing security GRC operations with an automation solution that facilitates risk management, compliance management, policy reviews, internal control testing, online assessments, reminders, and reports.
Through this transformation, the GRC team will be able to manage, follow up, Assess and audit Documentation and process related to Governance, Risk, and Compliance. All these aspects connected to each other on the same platform would ease initializing any project and assessment by the GRC management team.
We will help implement a tool that is built and distributed as a simple and cheap alternative to GRC spreadsheets and scattered folders.
Eramba charges only to operate (supporting and administration). So as a huge or small organization, could be an affordable tool for all Organizations seeking GRC management in an easy, professional, and sufficient manner.